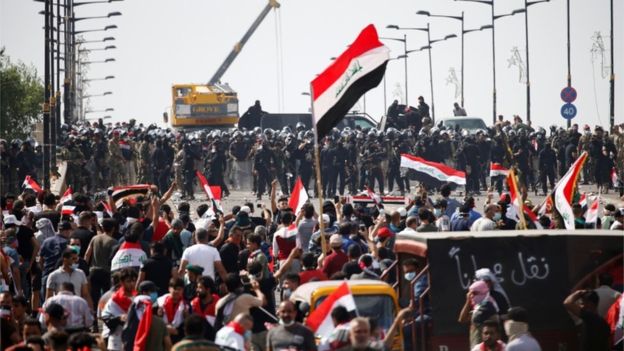 Mass civil unrest continues unimpeded in Iraq. It seems as though the Iraqi people are not happy with this allegedly free and open democracy they've been given.
Check out some of these clips:
Numerous Iraqis have been killed protesting the free and democratic Iraqi government.
Iraq's semi-official human rights commission says at least 63 protesters have been killed in two days of anti-government rallies in the capital and southern cities.

The Iraq High Commission for Human Rights says Saturday the most protesters killed were in the southern city of Nasiriyah, where 15 died.

At least 10 were killed in the capital, according to the commission, which said more than 2,500 protesters were injured in two days of rallies.

The Associated Press put the number of those killed at 49, including 12 who were killed in a fire in the southern city of Diwaniyeh, which the commission also accounted for.

Protests have resumed in Iraq after a wave of anti-government protests earlier this month were violently put down. At least 149 people were killed in a week of demonstrations earlier in October.
Once again, this shows that democracy does not equal freedom. If these people were truly free and felt like things were going well, they would not be risking their lives to try and overthrow the government.
Democracy is just a phrase used to describe a government controlled by Jews. So it is totally understandable why so many Iraqis are angry at the current situation.