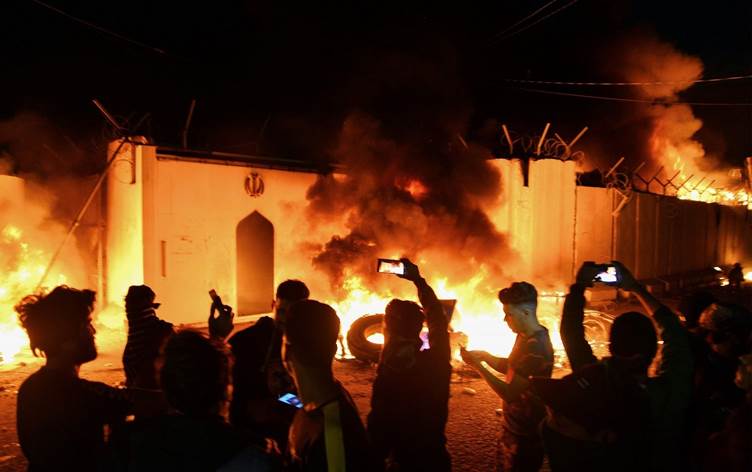 It looks like the Iraqi people are not happy with their democracy. 28 people were shot dead as an Iranian consulate building was set on fire.
Iraqi security forces shot dead at least 28 protesters on Thursday after demonstrators stormed and torched an Iranian consulate overnight, in what could mark a turning point in the uprising against the Tehran-backed authorities.

At least 24 people died when troops opened fire on demonstrators who blocked a bridge in the southern city of Nassiriya before dawn on Thursday. Medical sources said dozens of others were wounded.

Four others were killed in the capital Baghdad, where security forces opened fire with live ammunition and rubber bullets against protesters near a bridge over the Tigris river.

The incidents marked one of the bloodiest days since the uprising began at the start of October with anti-corruption demonstrations that have since swelled into a revolt against authorities scorned by young demonstrators as stooges of Tehran.
What a mess Iraq is.
There is nobody who can objectively say that the country is better off now then when Saddam Hussein was in power.
Currently inside Iraq, you have an angry Sunni-minority with a government run by Shiites who for obvious reasons have close ties to Iran. And now you see these divisions on full display with protesters burning down an Iranian consulate building and protesters getting shot dead in the streets.
Clearly, this country has not done well with democracy in place which seems to be the entire point of democracy being implemented in the first place.
But whatever the case, I couldn't give a shit about these people's grievances with one another. Remind me why we have American military forces over there still? Oh yeah, that's right, because of the Jews and our greatest ally Israel.