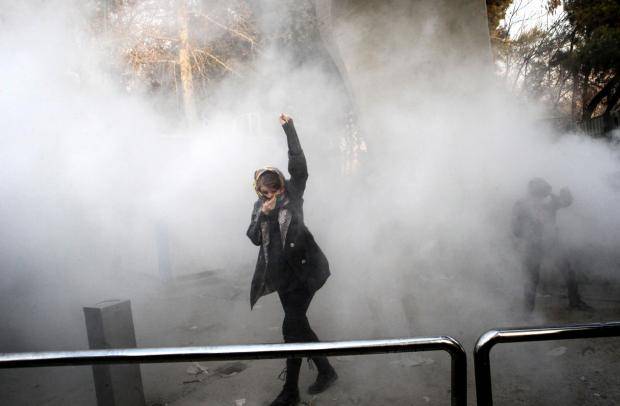 Iran is blaming foreign agents for the unrest and violence taking place in the country. They are right to do so. It is not a coincidence that these mass protests are occurring just a short time after the military defeat of ISIS.
RT:
At least two people taking part in pro- and anti-government rallies in Iran were killed, local media reported, citing officials. These are the first fatalities attributed to the recent mass protests.

The deaths were reported in the city of Doroud (Dorud), 325 kilometers southwest of Tehran, in Iran's western Lorestan Province, the semi-official Mehr News Agency reported. The unauthorized rally ignited clashes, Habibollah Khojastepour, the security deputy of Lorestan's governor, told the agency, adding that two protesters were killed in the clashes.

"The gathering was to be ended peacefully, but due to the presence of the [agitators], unfortunately, this happened," Khojastepour said. The official did not specify the causes of the deaths, adding that "no bullets were shot from police and security forces at the people."

The ongoing protests across Iran started on Thursday as a demonstration against soaring food prices and unemployment, snowballing into the biggest anti-government movement in eight years.

Speaking to state TV, Khojastehpour said that those killed in Doroud were targeted by foreign agents, not the police, Reuters reports. "We have found evidence of enemies of the revolution, Takfiri [Sunni extremists] groups and foreign agents in this clash."
ISIS was a major asset for the Zionists. When engineered protests failed in Syria, they propped up Islamic terrorists to try and overthrow the government. That's what ISIS was all about. Now that this asset has been defeated, they're attempting to engineer a color revolution in Iran.
One of their favorite tactics is to shoot protesters, blame the government and spread propaganda about human rights violations. They've done this before in previous color revolutions. Even the President has said that they're looking out for this sort of thing.
Big protests in Iran. The people are finally getting wise as to how their money and wealth is being stolen and squandered on terrorism. Looks like they will not take it any longer. The USA is watching very closely for human rights violations!

— Donald J. Trump (@realDonaldTrump) December 31, 2017
I don't think this is going to succeed though. The operation seems as if it was hastily thrown together and is being executed out of desperation. The Jews are in a bad spot. ISIS has been defeated and the Arab world is refocused on Israel after Trump's Jerusalem declaration.
I'd like to think that Trump has been forced to support this, sort of like the missile strikes he ordered against Syria this past April. However, his rhetoric has been consistently anti-Iran. He may legitimately perceive Iran to be an enemy even though they'd make a natural ally in the region if we weren't so deeply entrenched with Israel and the Saudis. Either way, I totally disagree with the position. It puts Israel before America.
The Iranian government is promising to punish the protesters having already shut down various means of communication throughout the country. We'll see how it plays out from here.