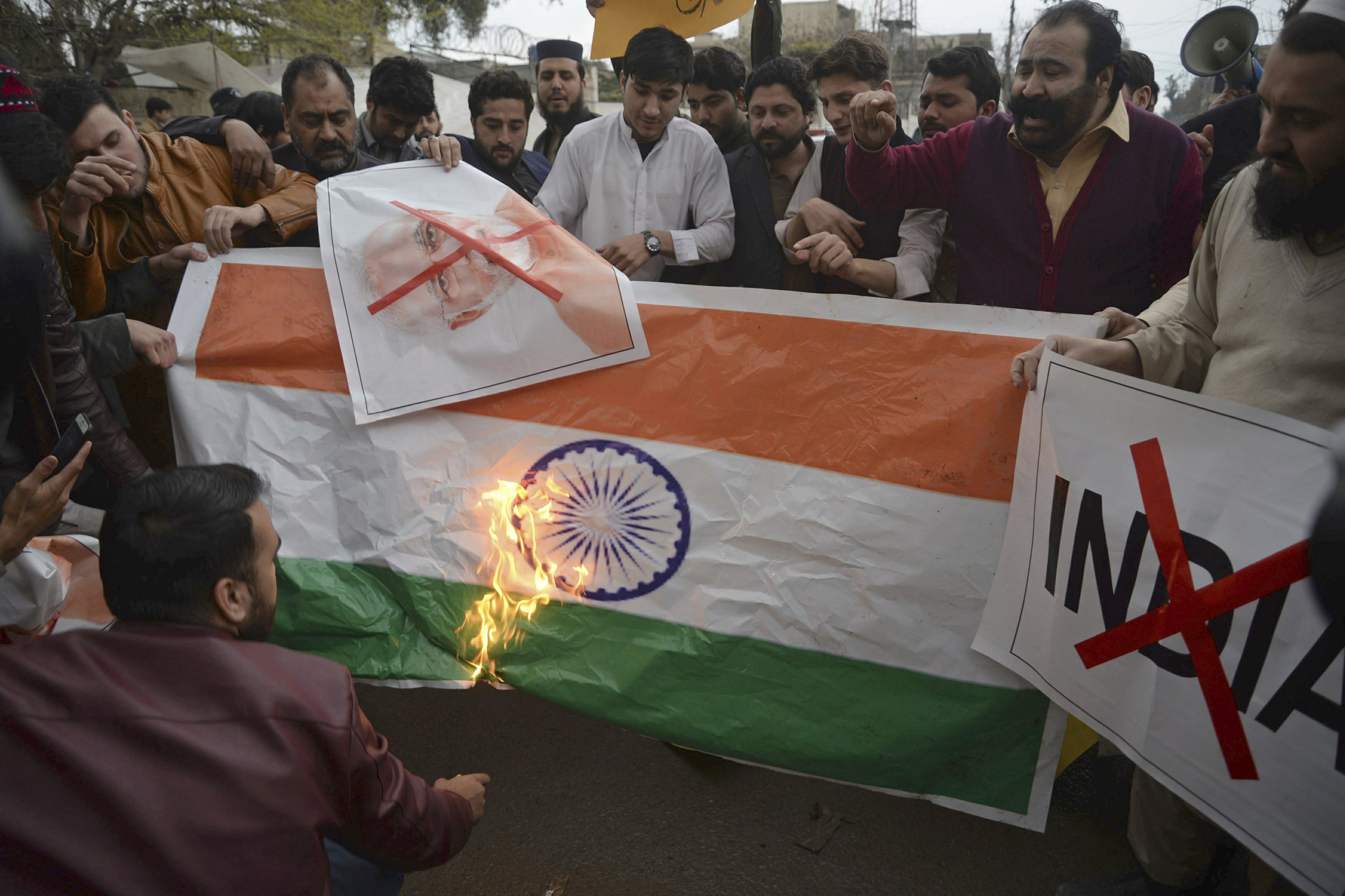 It appears as if India and Pakistan might be edging closer to a major conflict. The two countries have had numerous disputes over the Kashmir region and this is just the latest.
India conducted air strikes on Pakistan territory after 40 Indian soldiers were killed by a suicide bomber. India is blaming Pakistan for not doing enough to eliminate terrorists.
AP:
Tensions escalated sharply on the Asian subcontinent Tuesday with nuclear-armed neighbors Pakistan and India trading accusations and warnings after a pre-dawn airstrike by India that New Delhi said targeted a terrorist training camp.

Pakistan said there were no casualties, while New Delhi called the attack a pre-emptive strike that hit a terrorist training camp and killed "a very large number" of militants.

The airstrike followed a suicide bombing in India's section of the disputed territory of Kashmir on Feb. 14 that killed more than 40 Indian soldiers. Pakistan has denied involvement in the attack but vowed to respond to any Indian military operation against it.

Several reporters, including an Associated Press journalist, trudged up the Kangaran Nallah hill to the site of Tuesday's bombing near the town of Balakot, close to the border with Pakistan's sector of Kashmir. They saw several large craters, a few upended trees and villagers wondering why they had been targeted.

"There are only mud-brick homes here. There is no madrassas. There isn't even a concrete house," said 55-year-old Noor Shah who lived about a half-kilometer (a third of a mile) from the site.

When the bombs struck, Shah said residents of his village of Jabba stayed indoors. It wasn't until morning when "we saw soldiers and learned from them that Indian planes dropped bombs in our village," he said.
There's different stories being told about the air strikes but it looks like India only managed to bomb a couple of mud huts. It almost seems like India didn't know what to do but had to respond so they didn't look weak. India is saying that their air strikes were much more effective than what's being reported.
It's anybody's best guess what happens next but if these two mud countries want to go to war with each other, that's their own business. They're both nuclear powers but who the fuck knows if they're even capable of launching their nukes. These are people who have a difficult time taking shits in toilets so it is doubtful that they are very good at maintaining and managing their nuclear arsenals.