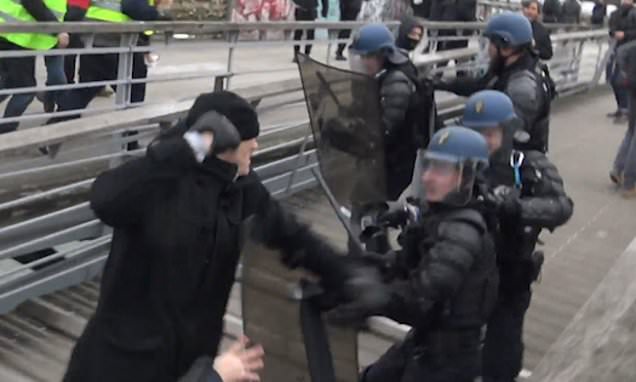 During this weekend's "Yellow Vest" protests, a French hero emerged. Video showing the former professional boxer Christophe Dettinger fucking up a group of riot police with his bare hands drew a great amount of attention on social media.
Here's one of the clips if you missed it.
Truly epic stuff. Who says there aren't real men left in the West? They still exist but are usually not given any attention by the Jewish press. That's reserved for faggots, trannies and other degenerates who are falsely presented as paragons of moral virtue.
Contrary to how things usually work, this clip has gotten so much attention that the French government has decided that they will try and make an example out of him.
After the videos were widely exchanged on social media police tweeted out that they had identified the man and he was in fact a former professional boxer and light heavyweight French champion.

"Sir, you who punch a colleague on the ground, you have been identified. For a boxer, you do not respect a lot of rules. We will teach you those of the penal code," tweeted a police union.

French interior minister Christophe Castaner later described the violent attack as"cowardly and intolerable" and tweeted that he contacted the public prosecutor to open an investigation into the incident.

Many on social media took a different view of the incident, labelling the boxer, identified online as Christophe Dettinger, as a hero of the movement and pointed to the incidents of alleged police violence during recent weeks.
Here's the tweet from the French police who were no doubt embarrassed by the incident.
Monsieur, vous qui avez frappé un collègue à terre, vous êtes identifié. Pour un boxeur, vous ne respectez apparement pas beaucoup de règles. Nous allons vous apprendre celles du code pénal. @EmmanuelMacron @EPhilippePM @CCastaner @NunezLaurent @DGPNEricMorvan @prefpolice pic.twitter.com/zBNcD9kWMs

— Commissaires Police Nationale SCPN (@ScpnCommissaire) January 5, 2019
Even though they're going to persecute this guy, he is already seen as a hero to the French people. Hopefully after the revolution takes place, he'll be given a position that is worthy of his hero status!