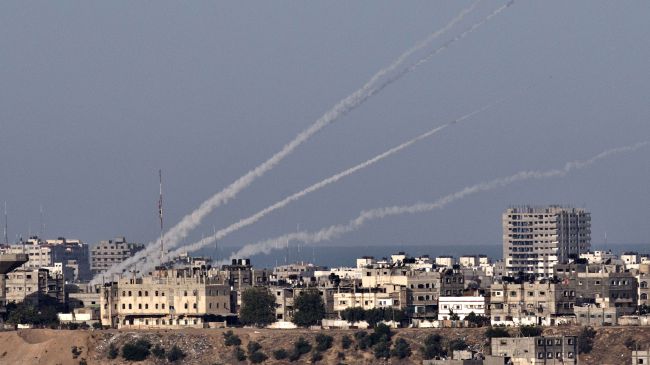 The conflict between the Zionist Jews and the Palestinians has flared up again. Hamas has fired hundreds of rockets into Israel from the Gaza Strip and Israel is threatening a full fledged ground invasion. The Jews have already deployed a brigade of tanks to the Gaza border and launched air strikes.
Israel appeared to be on the verge of a prolonged escalation of its conflict with Hamas and Palestinian Islamic Jihad after close to 300 rockets were fired from the Gaza Strip towards southern Israeli communities on Saturday, striking several homes and leaving one elderly woman severely wounded by shrapnel.

The attacks occurred in advance of Israel's Independence Day and 10 days before the Eurovision Song Contest.

Dozens of projectiles were intercepted by the Iron Dome missile defense system, according to the IDF Spokesperson's Unit.

While the majority of rockets launched by Hamas and Palestinian Islamic Jihad fell in open areas, several hit homes in communities in southern Israel, including in Beersheba, Sderot and Ashkelon.
The IDF Twitter feed is very funny. It's just non-stop Jewish hysteria, trying to paint themselves as victims. This despite the fact that Israel is an occupying power occupying Palestinian land and they keep millions of Palestinians in an open air concentration camp.
Noy lives in Ashkelon, an Israeli city right near Gaza. As an older sister, she felt responsible for the safety of her little brother and sisters. She filmed this footage as she ran with them to bomb shelters more than 4 times in one night. pic.twitter.com/tDVlQbzjIh

— Israel Defense Forces (@IDF) May 5, 2019
🔺600+ rockets have been fired from Gaza at Israel. IDF struck an additional 40 terror targets in Gaza, including:

• observation control rooms
• terror tunnels
• weapon storage facilities
• rocket launch sites

As of this hour, approx. 320 terror sites have been struck.

— Israel Defense Forces (@IDF) May 5, 2019
🚨ONCE AGAIN: Air-raid sirens sounding in southern Israel.

— Israel Defense Forces (@IDF) May 5, 2019
An update about ongoing #Gaza aggression against #Israel: pic.twitter.com/5i2TQPZMTE

— Israel Defense Forces (@IDF) May 5, 2019
🚨MORE: Air-raid sirens sounding in southern Israel. Over 600 rockets have been fired at Israeli civilians in the last 36 hours.

— Israel Defense Forces (@IDF) May 5, 2019
Dramatic scene on the streets of Ashdod, an Israeli port city, as a car goes up in flames following a direct hit from a rocket fired from #Gaza. pic.twitter.com/i32ozYHzae

— Israel Defense Forces (@IDF) May 5, 2019
200+ rockets rained down on the homes of Israeli families today. WATCH: pic.twitter.com/XZoqPabuQ6

— Israel Defense Forces (@IDF) May 4, 2019
This whining comes from the same Zionist government that is regularly shooting and gassing children, medics and other unarmed people in Gaza. They have no right to whine considering their atrocious track record.
Israel is not popular around the world. If they do a ground invasion it is only going to further erode international support for them. It would seem as if Hamas is trying to draw them into a ground battle knowing that it will do more harm to Israel in the long run. But as we know, the Jews are not good at fighting ground wars. The last major ground war they tried to fight in Lebanon back in 2006 was a huge embarrassment for the Jews.