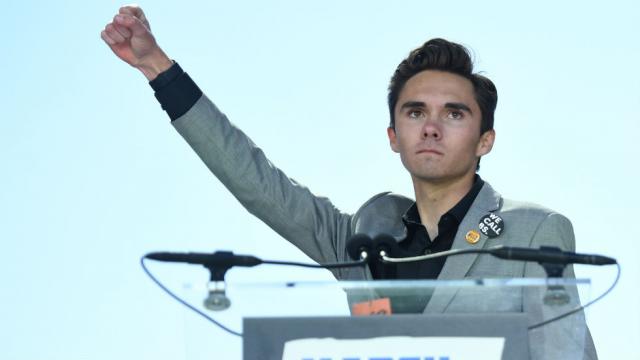 Colleges and Universities in California are not impressed by the gun grabbing crisis actor David Hogg. He's whining about being rejected by them.
Some state colleges in California are apparently not impressed by the Parkland high school shooting survivor who helped become a voice for a global gun control movement.

David Hogg, 17, has so far been rejected by four University of California campuses — UCLA, UCSD, UCSB and UC Irvine, he told TMZ.

According to the UC site, a minimum 3.4 GPA is required for non-California residents to get in. The Florida teen has a 4.2 GPA and an SAT score of 1270.

He's been accepted to Cal State San Marcos and Cal Poly, and in his home state, Florida Atlantic University — but he's not yet sure what he'll do after graduating, he said.

"At this point, we're already changing the world," Hogg, a senior at Stoneman Douglas High School, told the outlet. "If colleges want to support us in that, great, if they don't, it doesn't matter, we're still going to change the world."
He's probably better off if he didn't get go to college but I doubt he realizes or understands why.
And then there's Alex Jones' son Rex Jones challenging Hogg to a debate.
And Laura Ingraham is pathetically apologizing to Hogg for insulting him on Twitter. It sounds like a bunch of advertisers complained because she made fun of the gun grabbing faggot.
Any student should be proud of a 4.2 GPA —incl. @DavidHogg111. On reflection, in the spirit of Holy Week, I apologize for any upset or hurt my tweet caused him or any of the brave victims of Parkland. For the record, I believe my show was the first to feature David…(1/2)

— Laura Ingraham (@IngrahamAngle) March 29, 2018
… immediately after that horrific shooting and even noted how "poised" he was given the tragedy. As always, he's welcome to return to the show anytime for a productive discussion. WATCH: https://t.co/5wcd00wWpd (2/2)

— Laura Ingraham (@IngrahamAngle) March 29, 2018
Fortunately, this website is beholden to no advertisers so we are free to insult and make fun of this gun grabbing crisis actor all we want.
Oh and did you hear? Apparently Hogg is literally Adolf Hitler. I did not know this until I saw this new JewTube video.