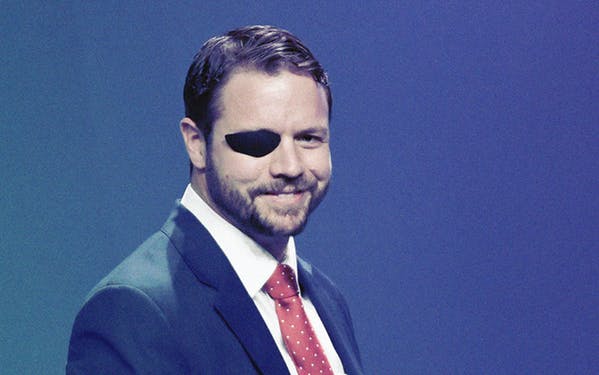 The Zionist shill and Israel First traitor Dan Crenshaw was confronted again by a contingent of groypers at the University of Texas in Austin tonight.
Here's some of the highlights from Nick Fuentes's Twitter feed.
Here a groyper questions Crenshaw about racial demographics.
Questioner confronts Crenshaw on his stance towards H.R. 1044 as well as his thoughts on the demographics question. #CultureWar

h/t to @oDEADLYCOBRA for the stream pic.twitter.com/o7kM1r1ZOH

— Catholic Groyper 🇺🇸 ✝️ (@catholic_goy) November 6, 2019
He was also asked about the USS Liberty incident and he falsely claimed that the attack was an innocent mistake by Israel. His response was not well received by the audience.
Crenshaw claims that investigations determined "Israel made a mistake" in attacking the USS liberty. pic.twitter.com/ENbX5Znvv1

— jd (@jdthekid22) November 6, 2019
A Trump supporter and presumably a fellow groyper wearing a MAGA hat was actually escorted out of the event for some reason.
Imagine being a Trump supporter being removed from a Q&A for telling your republican representative to answer a question. pic.twitter.com/H7ne6EWPBF

— Charlie Kirk's Teeth Groyper (@tpgroyper) November 6, 2019
If these people think that this is a good look they are sorely mistaken. They were apparently profiling anybody who looked like a groyper and that included anybody wearing MAGA hats. So I guess they just wanted questions from leftists?
I'm hearing reports from the Dan Crenshaw UT Austin event that students were profiled if they were wearing a MAGA hat or holding a rosary and removed from the Q&A! Great optics that we have to disguise ourselves as LIBERALS because Christians and Trump supporters are unwelcome!

— Nicholas J. Fuentes (@NickJFuentes) November 6, 2019
Overall, it looks like this was another successful groyper raid. And this is despite major efforts by Turning Point USA to prevent groypers from asking questions.
In other news, Vincent James and some groypers made some douche bag named Matt Walsh who works for the kike Ben Shapiro at the Daily Wire look like an absolute ass hat at the Q&A session of a separate event. Walsh also said that he would not debate Fuentes.
Vincent James asks Walsh how he can justify working for Ben Shapiro, who once publicly blasphemed Jesus Christ on a Joe Rogan Podcast #CultureWar pic.twitter.com/dzRmwRZf15

— Catholic Groyper 🇺🇸 ✝️ (@catholic_goy) November 5, 2019
"Grandpa Groyper" confronts Walsh on the nature of warmongering neocons #CultureWar pic.twitter.com/gdMznA3SNB

— Catholic Groyper 🇺🇸 ✝️ (@catholic_goy) November 6, 2019
Questioner asks Walsh if he is willing to sit down and debate @NickJFuentes. Walsh refuses and uses ad hominems to attack Nick. #CultureWar pic.twitter.com/7GdHlkOxEV

— Catholic Groyper 🇺🇸 ✝️ (@catholic_goy) November 5, 2019
This is all great stuff. We have to keep the pressure on these fake conservative shills. There are plenty more events to come and we need a large groyper turn out at all of them.