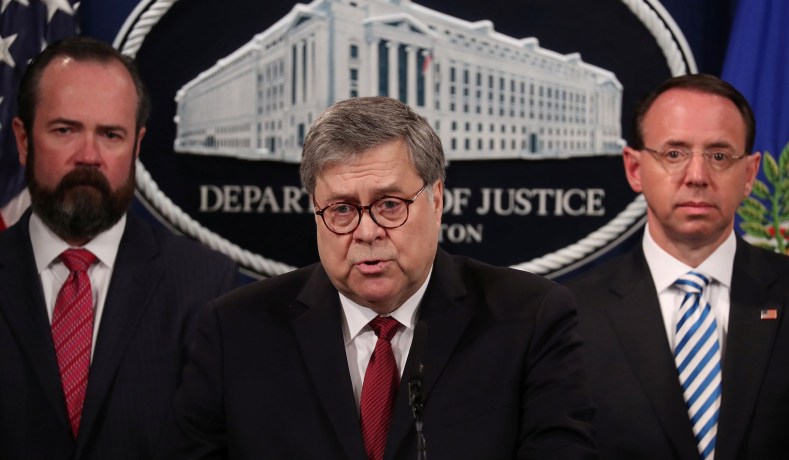 Attorney General Bill Barr held a press conference this morning about the release of Bob Mueller's report into the Trump-Russia hoax.
The full text is here.
The text has redactions related to classified information, grand jury testimony etc.. No information was hidden due to claims of executive privilege even though Trump could have theoretically done this. Select members of Congress will be allowed to view a report without many of these redactions.
As Barr's previous four page summary outlined, it concludes that there was no collusion between the Trump presidential campaign and Russia.
Barr also mentioned during his press conference that WikiLeaks was not involved in a conspiracy with Russia to hack Democrat emails. He also said that it wasn't illegal for WikiLeaks to have published the emails that they obtained.
In the past few weeks, the Jews in the media were claiming that Barr was involved in some sort of bizarre cover up. But if anything, this shows an attempt by Trump and Barr to be as transparent as possible.
The only possible narrative they can push now is that Mueller himself is part of a conspiracy which is insane considering that they held up Mueller as the gold standard of investigators for the past two years. House Democrats are going to drag Mueller testify in front of Congress to try and drag this circus out a little longer.
Theoretically in a sane world, this would officially put to rest the Russia hoax. But since we are in clown world and dealing with insane and delusional people, they're just going to invent even crazier and wilder conspiracy theories to explain why their original conspiracy theory was wrong.
Look at some of these tweets. These people are insane and should be committed to mental hospitals. They're just grasping at straws now. They're claiming Barr is guilty of playing partisan politics when he had nothing to do with producing the report. They're the ones doing political spin irregardless of the facts. Nothing they say can take away from the fact that the report concluded that there was no collusion between Trump and Russia.
Barr is acting more like Trump's defense attorney than the nation's Attorney General. His press conference was a stunt, filled with political spin and propaganda.⁰ ⁰Americans deserve the unvarnished truth. We need Special Counsel Mueller to testify publicly in Congress.

— Kamala Harris (@KamalaHarris) April 18, 2019
AG Barr has confirmed the staggering partisan effort by the Trump Admin to spin public's view of the #MuellerReport – complete with acknowledgment that the Trump team received a sneak preview. It's more urgent than ever that Special Counsel Mueller testify before Congress. https://t.co/waoGzLntlt

— Nancy Pelosi (@SpeakerPelosi) April 18, 2019
The House Intelligence Committee has formally invited Special Counsel Mueller to testify on the counterintelligence investigation.

After a two year investigation, the public deserves the facts, not Attorney General Barr's political spin. pic.twitter.com/PWIXvl7MLv

— Adam Schiff (@RepAdamSchiff) April 18, 2019
As usual, the leftists who accurately called out this whole thing as a hoax are serving as a voice of reason on this whole situation.
"Arrogant and wilfully misleading" are perfect terms for those in DC & the media who spent three years drowning US politics in incredibly dangerous but debunked conspiracy theories about a nuclear-armed power taking over our government & the Trump campaign conspiring with them: https://t.co/MUaSlDKNAy

— Glenn Greenwald (@ggreenwald) April 18, 2019
CNN should have a countdown clock for when their attacks on Robert Mueller start. It's not long now.

— Glenn Greenwald (@ggreenwald) April 18, 2019
I've honestly never seen the type of media meltdown that I'm seeing on CNN. They are so emotionally invested in the storyline that they've been pushing for 2+ years and they know what Mueller did to it and how this will forever reflect on them.

— Glenn Greenwald (@ggreenwald) April 18, 2019
The media has only 2 or 3 more hours to rage against Bill Barr for the complete collapse of everything they did for the last 2+ years. Then we'll have the Mueller Report that will say what we all know it will say and then they'll have to either accept that or target Mueller.

— Glenn Greenwald (@ggreenwald) April 18, 2019
Wait, there are collusion truthers running around proclaiming they were right all along, when Mueller — in plain, universally-accessible, English text — has definitively announced that he concluded there was no collusion? Am I dreaming?

— Michael Tracey (@mtracey) April 18, 2019
The logical conclusion of the current "coverup" conspiracy theory is that Robert Mueller is locked in a dungeon somewhere — maybe in the basement of Trump Tower, or Siberia — watching helplessly as Bill Barr maliciously lies about every major aspect of his 2-year investigation

— Michael Tracey (@mtracey) April 18, 2019
What a circus. Can we all just move on from this please? If foreign collusion was such an important matter, Congress should be investigating Trump's kike son-in-law Jared Kushner and Israel. But they won't do this because they're all Jews or controlled by Jews in some capacity themselves.