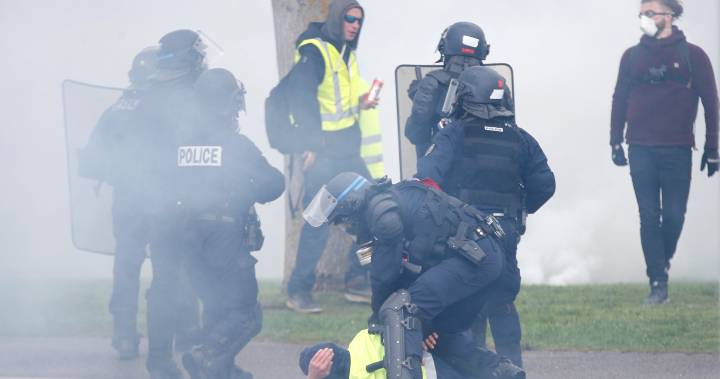 The French people are still very angry with the political situation in their country as the "Yellow Vest" protests have entered its 24th week. French President and ZOG whore Emmanuel Macron delivered a speech promising to do something about the Moslems, taxes and securing the border but nobody believed him. The protests were as energetic as ever.
French police fired tear gas to push back protesters who tried to march towards the European Parliament building in Strasbourg on Saturday, the 24th consecutive weekend of protests against President Emmanuel Macron's policies.

The "yellow vest" protesters were back on the streets across France two days after the president outlined policy proposals including tax cuts worth around 5 billion euros ($5.58 billion) in response to the protests.

Around 2,000 demonstrators gathered near European Union institutions in Strasbourg, with organizers hoping to make the protest international by marching to the parliament building a month ahead of EU-wide parliamentary elections.

Previous yellow vest protests in the eastern city have mostly been peaceful. But concerned about the violence and destruction of public buildings that have marked some yellow vest demonstrations in other parts of the country, authorities had banned protests and barricaded the neighborhood where the parliament and other EU institutions are located.

Police fired several canisters of tear gas to push back the demonstrators, a Reuters witness said.

French television showed some hooded protesters throwing stones and other objects back at the police.
There were both large protests outside of the European Parliament in Strasbourg and outside of the offices of big media outlets.
Hopefully these continue until the ZOG puppet Macron is held accountable for his crimes and betrayal of the French people.