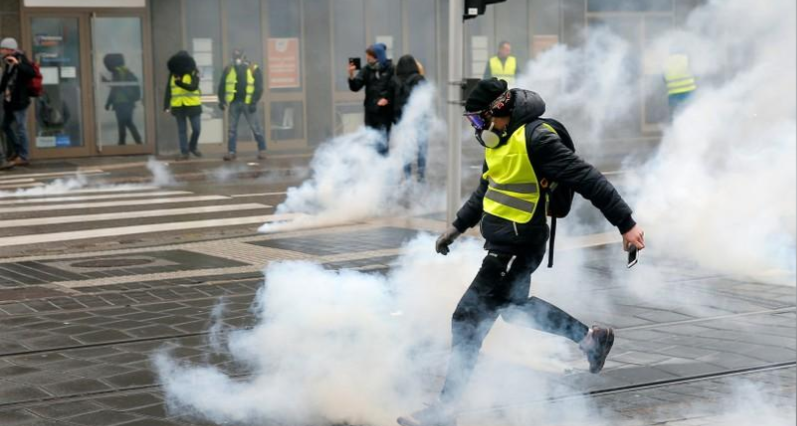 The Jewish media is lying about these "Yellow Vest" protests dwindling. The corrupt French government deployed 80,000 police around France to contain them. If these protests were really fading away, what would they need to deploy 80,000 police for?
French authorities are preparing to deploy around 80,000 police officers across the country on Saturday ahead of a ninth straight week of yellow vest protests.

The nationwide demonstrations were initially triggered by the rising cost of fuel but have since morphed into a broader anti-government revolt.

France's President Emmanuel Macron has so far struggled to find a solution to the crisis as he faces a plethora of demands.
Look at these clips. The French government is continuing to gas its own people in the streets. The police even wounded a panda as seen in the below video footage.
Here's more clips from today's protests. Interesting how the French government can use all this force on their own people but not on all these Moslem savages that have created no-go zones throughout the country.
In other news, the former professional boxer who took on French riot police with his bare hands during a previous "Yellow Vest" protest was arrested which has fueled even more anger towards the government.
French officials on Tuesday condemned a fundraising drive that brought in more than 100,000 euros (more than $114,619) for a former boxer filmed punching police officers during the latest "yellow vest" anti-government protests in Paris over the weekend.

Christophe Dettinger, known as "The Gypsy From Massy" during his days in the ring, turned himself in to police on Monday after videos emerged of him assaulting shield-carrying officers during the demonstrations on Saturday.

As of Tuesday morning, over 7,000 people had pledged a total of 117,000 euros ($134,000) on Leetchi, a French website used to raise funds for individuals and causes, to help pay legal costs for Dettinger, who remains in custody.

In a video posted on YouTube on Sunday, he described himself as an "ordinary citizen" acting out of anger with what he called the repressive tactics of the police.

"I was tear-gassed, with my friend and my wife, and at a certain point the anger just rose up inside me," said the 2007 and 2008 champion of France's light heavyweight division.
Yeah, so the general public is supporting the boxer and donating money for his legal fees. This is not surprising at all.
At some point the police are going to have to decide if they really want to continue protecting the corrupt Jew-run government of Emmanuel Macron or if they'll finally join with the French people and have him forcibly removed. These protests are not going away anytime soon as they've become a symbol of worldwide resistance to Jewish globalism.