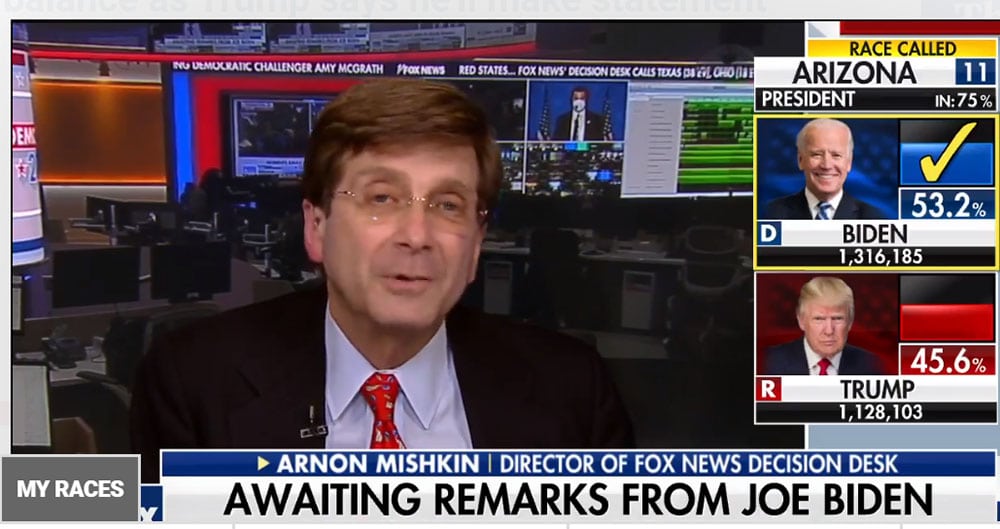 No real surprise here, but the person at Fox News who made the decision to call Arizona for Joe Biden early was the Jewish Democrat Arnon Mishkin. He was put in charge of the Fox News decision desk team for the election further illustrating how Fox News has totally abandoned what was its center-right viewing audience.
The Jewish Journal has a whole article describing how Mishkin is a Jewish Democrat.
Arnon Mishkin, a Jewish Democrat who heads Fox News' decision desk team, is defending his decision to call Arizona for former Vice President Joe Biden on November 3, despite the Trump campaign's insistence that the call was too early.

Mishkin told Fox News anchor Bret Baier about an hour after he made the call for Biden that he was "100% certain" about the call, according to Jewish Telegraphic Agency (JTA).

"The president is not going to be able to take over and win enough votes to eliminate that seven-point lead that the former vice president has," Mishkin said. "We're not wrong in this particular case."
Mishkin was undoubtedly aware of all the fraud that was going to take place in Arizona and in other states which is why he pulled the trigger and made the call. But even with all the fraud involved, there is still a chance Trump might win the state. He's only down by roughly 12,000 votes with votes still to count.
If Trump isn't able to overcome the fraud, there is going to be a number of legal challenges and some type of recount or audit in the state any way. So things are looking good for Trump in Arizona.
Either way, the decision to call Arizona early was designed to specifically hurt Trump. It should come as no surprise that a Jewish Democrat of all people was the main person involved in the decision.
It never ends with these Jews does it?