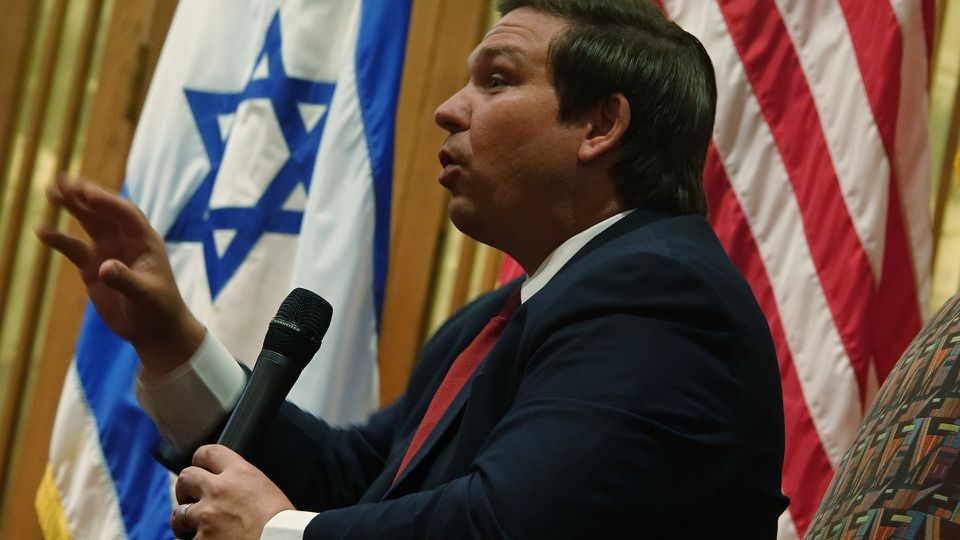 Ron DeSantis was doing a few good things in Florida as the state's governor. Unfortunately he decided to flush all that down the toilet with this bullshit. Seriously, WTF is this?
Randy Fine, a Republican legislator from Melbourne Beach, got personal Wednesday when he sat down with Gov. Ron DeSantis at the King David Hotel in Jerusalem to sign a bill adding anti-Semitism to the categories of discrimination outlawed by Florida.

He talked about a boy 32 years ago who failed Algebra because he missed one test — a test that was given on the important Jewish holiday of Yom Kippur.

"If that was a real holiday, we would have all had it off," the teacher told him.

"And I swore an oath that when my boys were born nothing like that would ever happen to them," he said. "Unfortunately the threat of that is still real."

He told those gathered after a historic cabinet meeting in the U.S. Embassy in Jerusalem about a group of Alachua County students who went to a school board meeting to protest the rise in anti-Semitism attacks from fellow students. One wore a swastika and made a Hitler salute. Another told a Jewish student he should have died in the Holocaust.

Lawsuit dismissed after Florida governor, Cabinet sued over plans to meet in Israel

Anti-Semitism is on the rise across the nation, he said, with members of congress using BDS (Boycott, Divest and Sanctions) as a subtle form of discrimination against Jews.

Fine thanked his Senate counterpart, Joe Gruters of Sarasota, and all the Legislators who helped the bill pass unanimously.

"Anti-Semitism has no place in our state," DeSantis said, repeating the story of placing sanctions against Airbnb when it delisted properties in the West Bank last December. The company reversed its policy and now DeSantis thinks the sanctions should be lifted.
What would the mainstream Jewish press say if a state governor went to Moscow and signed a bill outlawing criticism of Russians? They'd go nuts calling that person a traitor to the United States of America.
But this standard does not apply to Israel because Jews control the United States government.
I mean just think of what happened here. A state governor signed a bill in a foreign country that benefits said members of that foreign country. And he signed it in the King David Hotel of all places, a place where Jewish terrorists killed a number of British people in a terrorist attack.
The bill violates the First Amendment and should be thrown out by the courts. You can't pass a law banning the criticism of a group of people because they were allegedly masturbated to death and gassed in fake shower rooms back in the 1940s. I'm sorry, but you just can't do that.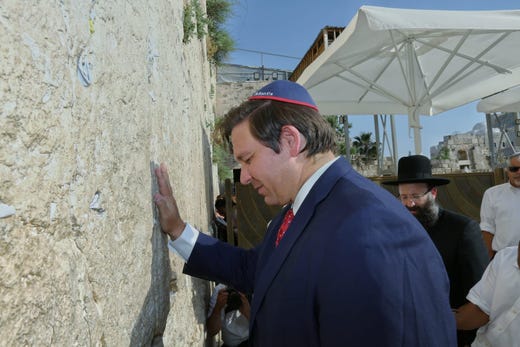 Ron DeSantis can go fuck himself for this disgusting display of Jew cock sucking. If he likes sucking Jew cock so much he should permanently move to Israel and suck all the Jew cock he wants in Tel Aviv.