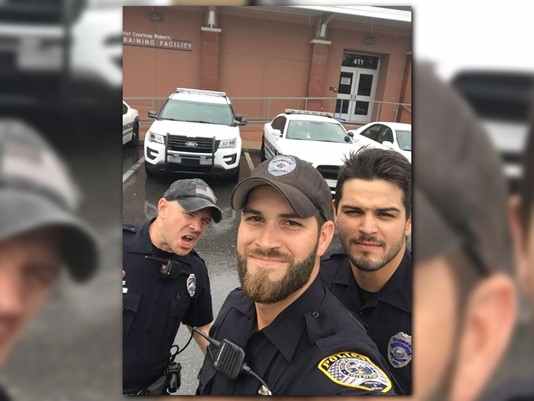 Michael Hamill posted jokes about Jews on Facebook and lost his job. As a cop this is the worst thing one can do. It is far worse than beating, raping or killing someone which is a common thing that happens with these ZOG troopers.
So a Florida police officer named Michael Hamill has resigned after it was discovered that he fucked some woman on duty and posted Jew jokes on Facebook. That's because you are not allowed to hold any sort of job if you have negative things to say about Jews. It doesn't matter if they are jokes or not.
A Gainesville, Florida, police officer who gained unexpected fame as one of the "hot cops" responding to Hurricane Irma has resigned from the department amid allegations he made anti-Semitic Facebook posts and had sex with a woman while on duty.

Gainesville Police Department Officer Michael Hamill had been suspended in September following the Facebook allegations. He resigned Dec. 6, the day he was to be interviewed in an Internal Affairs investigation.

Department spokesman Ben Tobias said both allegations would have been sustained based on evidence. It is possible Hamill, who was hired in 2016, would have been terminated as a result.

In early September, the department posted a selfie of Hamill and two other GPD officers "getting ready to do some work" as Hurricane Irma swept through Florida. The post of the "hot cops" drew thousands of admirers and many departments across the country followed suit by posting their own photos of studly officers.

But just weeks after the Sept. 10 post, the department received complaints about the Facebook posts and a sexual relationship he had with a woman.

Investigators uncovered two posts Hamill had made to his personal Facebook account before he was on the Gainesville police force. In one from 2011, he says, "Stupid people annoy me," then added, "put them in an oven and deal with them the hitler way. Haha."

He posted that "reading Jewish jokes" helped him feel better about himself in a 2014 post. He then offered the following: "What's the difference between boy scouts and Jews?… Boy scouts come back from their camps."
So he was joking about Jews and he made these posts several years ago. It is utterly retarded that this is a thing that gets somebody fired from a job. Our society is a fucking joke. Is it any wonder why more and more people are getting fed up and just calling out this kikery?
I'll live out of a fucking tent if needed. Nothing is going to stop my continued shit posts against these evil Jews.