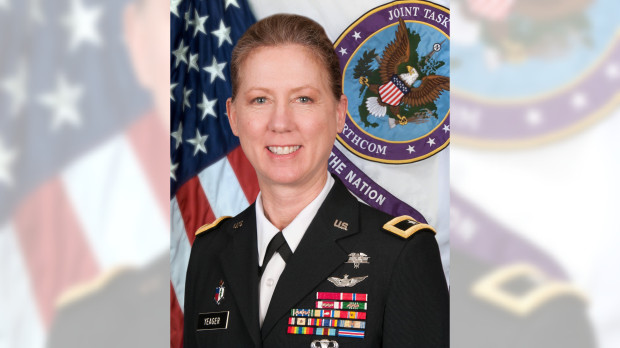 Institutions that were built by men are being infiltrated and destroyed by women from within. The military has not been immune from this. They are letting a woman take charge of an Army infantry division for the very first time. This is not good.
Brig. Gen. Laura Yeager will make history later this month when she becomes the first woman to command a U.S. Army Infantry Division.

Yeager, a former Black Hawk helicopter pilot who deployed to Iraq, will assume command of the California National Guard's 40th Infantry Division during a ceremony in Los Alamitos, California, on June 29, according to a news release from the California Guard.

She received her commission from the U.S. Army in 1986 as a second lieutenant from the Reserve Officer Training Corps at California State University Long Beach. Three years later, Yeager completed military helicopter training and began serving as a UH-60 Black Hawk helicopter aeromedical evacuation pilot.

Though Yeager left active duty service eight years later when her son was born, she continued her career in the California Army National Guard. In 2011, she deployed to Iraq as the deputy commander of the California Guard's 40th Combat Aviation Brigade.
Everywhere that I've worked, women have mostly been a nuisance and a distraction to getting actual work accomplished. They weasel themselves into positions where they manage other people's work or get men to do their work for them. The jobs they have are hoaxes only made possible because of Jewish affirmative action policies. Their presence ruins the efficiency of any organization I have been a part of.
It is utterly insane to put a woman like this in charge of an infantry division. But we live in insane times so insane things are happening. What else can I say.