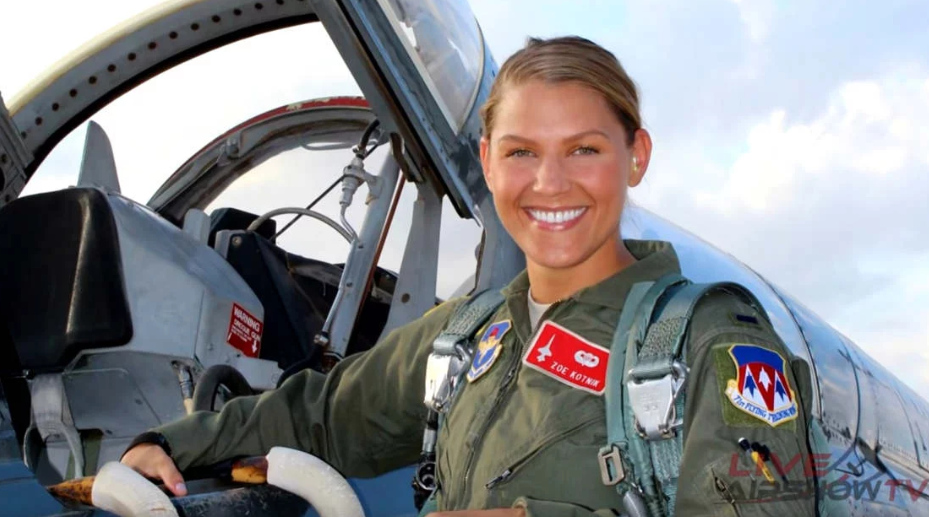 Having women in the military is a joke. The military is not meant to be a social engineering experiment. Even worse is that women are being put in leadership positions they are not qualified for simply because they have a hole in between their legs.
Take this story for example. A female was put in charge of the Air Force's F-16 Viper demo team and got relieved of command after only two weeks on a job.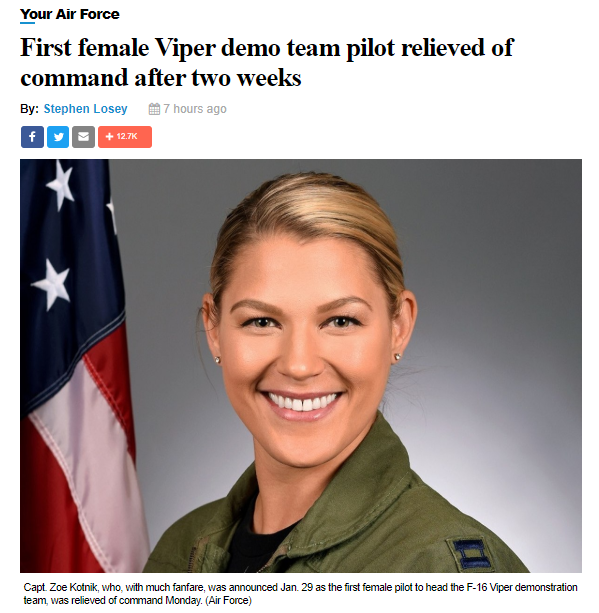 Capt. Zoe Kotnik, the first female pilot to head the F-16 Viper demonstration team, was relieved of command Monday.

"Col. Derek O'Malley, 20th Fighter Wing commander, relieved Capt. Zoe Kotnik from command Feb. 11 due to a loss of confidence in her ability to lead and command the Air Combat Command F-16 Viper demonstration team," said Col. Allen Herritage, director of public affairs at ACC, in a statement. "The Viper demonstration team is working to minimize impacts on scheduled performances and looks forward to inspiring crowds around the country during the upcoming season as soon as a new commander is selected."

Herritage would not comment further on what led to Kotnik's removal, citing privacy concerns.

The 20th, which is located at Shaw Air Force Base in South Carolina, said in an email to Air Force Times that Kotnik declined to comment. Capt. Alannah Staver, a spokeswoman for the wing, said that Kotnik is no longer performing with the team, but "will continue to serve in a non-supervisory role in the 20th Fighter Wing."

In a statement on Shaw's Facebook page, O'Malley alluded to "mistakes" on Kotnik's part, but expressed hope that she will continue to serve in the Air Force.
Yeah, they won't say what mistakes she made because of "privacy." Sounds like female privilege. Women want all the responsibility but never the accountability because they have a vagina.
Look at how excited the Viper team was to make the announcement about her becoming the first female to achieve a position on this team.
Breaking news!@ACC_Commander , commander of @Air Combat @USAF_ACC, has certified @usairforce Capt. Zoe "SiS" Kotnik as the new #ViperDemoTeam pilot.

She is also the Air Force's first female single-ship tactical demonstration pilot! pic.twitter.com/ol67541aRe

— F-16 Viper Demo Team (@ViperDemoTeam) January 29, 2019
They probably tried to hype this story due to that shitty Captain Marvel film coming out which features a female military pilot as the lead character.
All this female empowerment nonsense needs to end. Their presence in male spaces has created an untold number of societal problems and its gotten to the point where it is endangering people's lives.