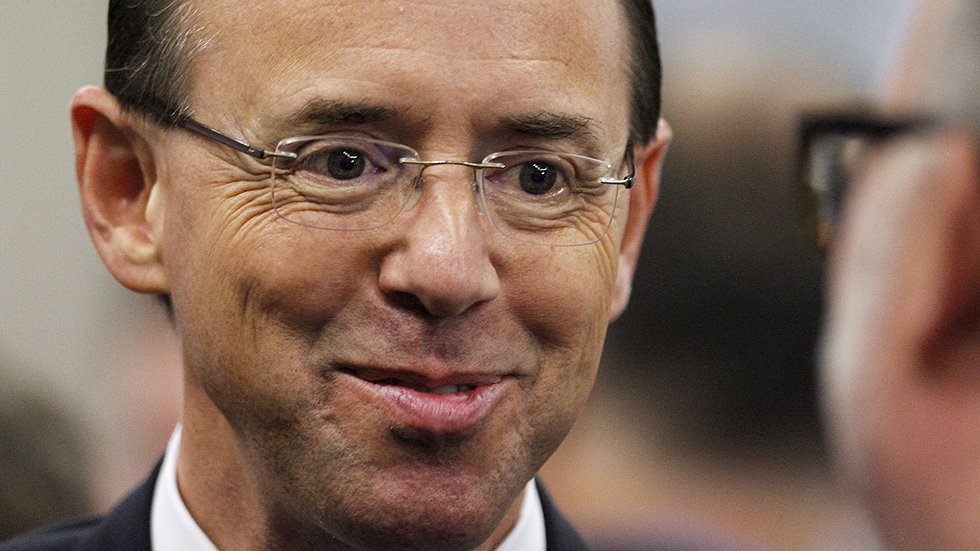 The Russia hoax has totally unraveled. Even though this conspiracy to hoax a conspiracy against Donald Trump is all out in the public domain, nothing is being done about it.
We now have this news about James Baker the top FBI lawyer admitting to Congress that the Jew Rod Rosenstein seriously discussed invoking the 25th Amendment to remove Trump from office. He said that Rosenstein knew of two Trump cabinet officials who were ready to support such an initiative.
Former top FBI lawyer James Baker, in closed-door testimony to Congress, detailed alleged discussions among senior officials at the Justice Department about invoking the 25th Amendment to remove President Trump from office, claiming he was told Deputy Attorney General Rod Rosenstein said two Trump Cabinet officials were "ready to support" such an effort.

The testimony was delivered last fall to the House Oversight and Judiciary Committees. Fox News has confirmed portions of the transcript. It provides additional insight into discussions that have returned to the spotlight in Washington as fired FBI Deputy Director Andrew McCabe revisits the matter during interviews promoting his forthcoming book.

Baker did not identify the two Cabinet officials. But in his testimony, the lawyer said McCabe and FBI lawyer Lisa Page came to him to relay their conversations with Rosenstein, including discussions of the 25th Amendment.
Former FBI Deputy Director Andrew McCabe has also confirmed that Rosenstein was openly talking about this agenda in an interview he did with 60 Minutes.
What's strange is how McCabe is just out there openly saying these things. He's admitting his involvement in a soft coup to overthrow the President of the United States. At this point, it looks as if everyone involved in this is just trying to place the blame on somebody else. McCabe is even selling a book based on his involvement in this treacherous plot.
I also had thought Rosenstein was leaving his position as Deputy Attorney General but for some bizarre reason he is still employed there. How the hell hasn't he been fired yet? He no longer has oversight over the Bob Mueller witch hunt, so one would think that Trump could just fire his Jewish ass.
This whole fiasco needs to be investigated and people need to be sent to prison. But will it ever? Who the fuck knows at this point. The Department of Justice and Mueller's special counsel is more concerned with sending a small army of militarized police to go after Trump supporters like Roger Stone. The entire witch hunt needs to be shut down otherwise it looks as if Mueller is just going to continue harassing Trump and his supporters throughout the entire term of his presidency.