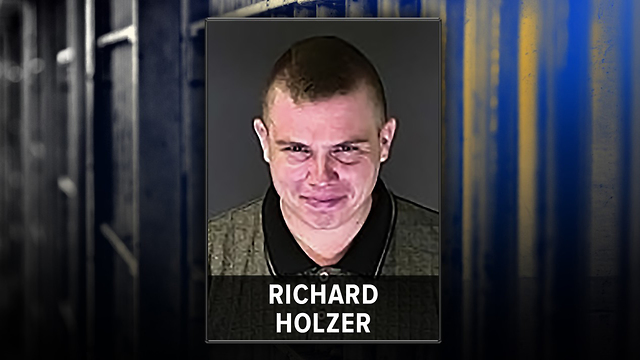 Fuck the FBI. They keep finding crazy people on the Internet and then send their agents out to convince these crazy people that they should commit terrorism. This has happened over and over again and this is just the latest example of this retarded phenomenon.
A 27-year-old Pueblo man, who hoped to incite a racial holy war and plotted ways he could destroy the second-oldest synagogue in Colorado to "get that place off the map," is accused of domestic terrorism and a hate crime by federal authorities.

Richard Holzer of Pueblo was charged Monday with intentionally attempting to obstruct persons in the enjoyment of their free exercise of religious beliefs, through force and the attempted use of explosives and fire, according to the U.S. Attorney's Office in Colorado. He faces up to 20 years in prison and a $250,000 fine if convicted for plans to blow up Temple Emanuel Synagogue in Pueblo.

Law enforcement and temple leadership lauded a collaborative effort to stop a threat against the Jewish community in Pueblo before it was carried out, and the temple's leaders vowed the incident would not stop them from proudly practicing their faith.

"We're not going to be victims," Michael Atlas-Acuna, Emanuel's president, said. "We're not going to allow them to stop us doing what we're doing."

The FBI began investigating Holzer when the agency received a tip about him, FBI Special Agent in Charge Dean Phillips said at a news conference Monday afternoon. Holzer was spreading white supremacist views that encouraged acts of violence, according to an affidavit filed Saturday in U.S. District Court in Colorado.

The arrest affidavit paints the picture of a man with extreme racist views against Jews and other minorities. He actively espoused his radical views on social media and met multiple times with undercover FBI agents who convinced him that they wanted to help with the plan to destroy the synagogue.
That last paragraph says it all. This guy was saying things on the Internet so the FBI contacted him and convinced him that he should try and blow up a synagogue.
We would see a drastic reduction of terrorism if the FBI didn't exist. They are literally manufacturing fake terrorist plots and arresting random morons to falsely claim that they are succeeding in fighting terrorism.