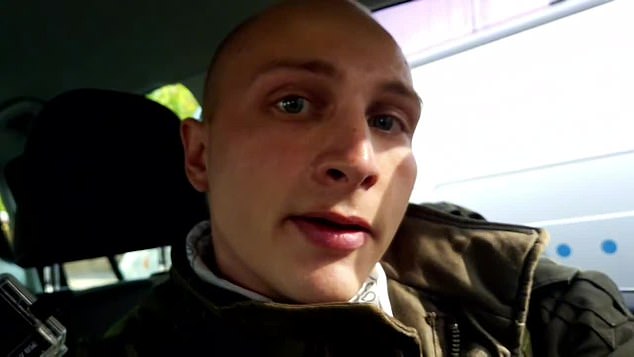 The attempted mass shooting of a synagogue in Germany that was streamed on Twitch  earlier this week has been an absolute cluster fuck among cluster fucks.
Here's a torrent link if you haven't seen it yet.
At first it seemed as if the shooter identified as Stephen Balliet only managed to kill a fat woman and a Moslem in a kebab shop but the outcome is even worse than that. Both the fat woman and the person in the kebab shop he killed were Germans. There wasn't a single non-German killed in this retarded fiasco.
The two people murdered by the anti-Semitic gunman who went on a rampage near a synagogue in Germany were identified in local outlets Thursday as a music superfan and a young construction worker.

Jana Lange, 40, was walking home Wednesday around noon when she passed the Jüdische Gemeinde Halle temple that shooting suspect Stephan Balliet was trying to break into, local website Stern reported.

She was gunned down as she walked by the house of worship.

Moments later, the killer drove to a kebab shop, where he shot dead a 20-year-old identified only as Kevin S., who was on his lunch break from a nearby construction site where he worked as a painter, his mother told RTL.

"He had his whole life ahead of him," said his distraught mom, identified only as 43-year-old Mandy S.

"I don't know how my life is supposed to carry on."

The first victim, Lange, couldn't work due to medical reasons and devoted her time to going to concerts and collecting autographs, her friends told the outlet.

One of her favorite artists, German singer and TV presenter Stefan Mross, paid tribute to her Thursday on Facebook writing: "The rampage in Halle has taken our most loyal fan from us," and describing Lange as having a "zest for life."

Both of the victims' murders were captured in a sickening video the shooter made using a smartphone mounted on a helmet. The footage was livestreamed on Twitch to around 2,200 people.
So not only did this fool kill a couple of Germans, but he has given Angela Merkel and all her Jewish buddies an endless amount of ammunition to cry about anti-Semitism and demand a further crackdown against nationalists.
Just take a look at what is being published and recommended by Deutsche Welle. It's all propaganda sympathetic to the Jews even though there was not a single Jew killed in this attack.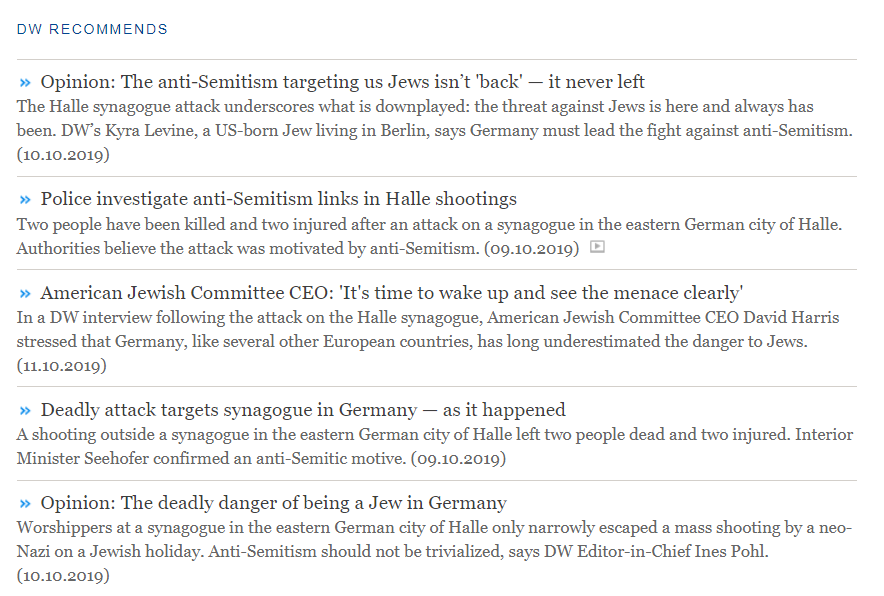 With that said, it looks as if this guy was just a troubled person who was manipulated into taking this action. He's just as much a victim as the people he killed.
But what this illustrates is how mass shootings in general are not a good idea. The only reason the Brenton Tarrant self defense initiative was well received was because he effectively shot up a mosque that was an Al-Qaeda recruitment center. He chose a target that the average White person would have no sympathy for. He also methodically trained and planned for the event with military precision. He also wasn't going around on message boards bragging about what he was about to do nor did he have handlers telling him what to do.
The mass shooters that have followed Tarrant have not been any of these things. They've either been carried out in a careless fashion or they've been directed by outside forces.
Of course, none of this madness would be happening if Jews didn't have their tentacles in nearly all of the important organizations and institutions throughout the West.