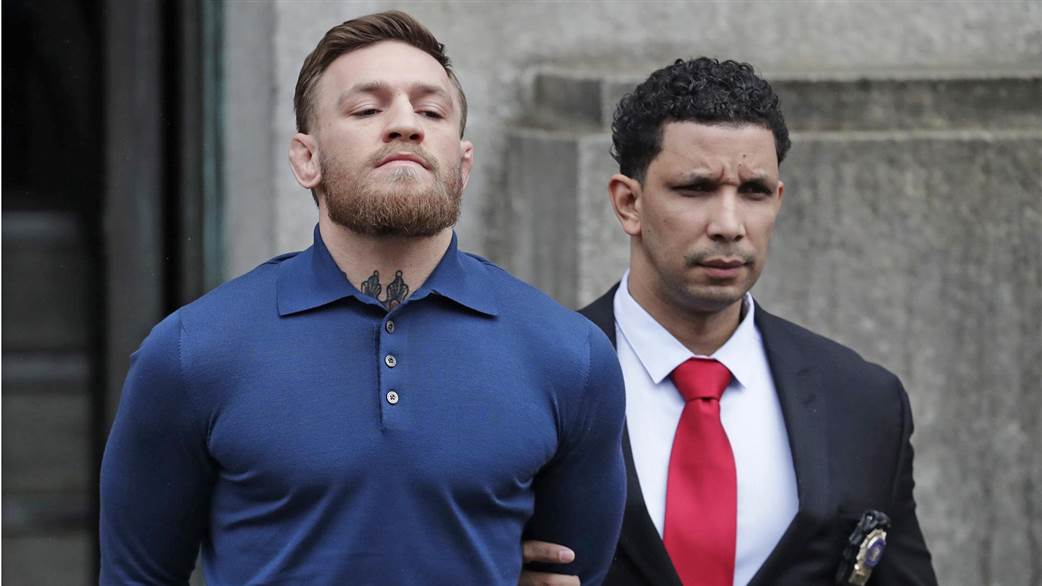 Big news in the world of sports. UFC Fighter Conor McGregor was arrested after attacking a bus filled with other UFC fighters. A few fighters inside the bus were injured from the broken glass that shattered when McGregor and his buddies attacked the vehicle.
Apparently McGregor and his pals attacked the bus in retaliation for an earlier incident that occurred between his sparring partner and UFC Fighter Artem Lobov and another UFC Fighter Khabib Nurmagomedov.
ESPN:
UFC president Dana White says he has no interest in helping Conor McGregor with his legal troubles after the fighter was charged with three counts of misdemeanor assault and one count of felony criminal mischief Thursday.

McGregor, 29, was caught on camera throwing a hand dolly through the window of a bus that was carrying UFC fighters at a UFC 223 media event Thursday at Barclays Center.

"No … no," White said on ESPN's Get Up! on Friday morning when asked if he would help McGregor. "Normally, yes, I would dive right in and do everything in my power to help one of my guys. But not in this situation.

"He came into the Barclays Center, attacked our fighters and attacked my staff with a bunch of guys. No, you don't get my help on this one."

Two fighters suffered injuries as a result of the incident. McGregor's teammate, Cian Cowley, was also charged by the New York Police Department with assault and criminal mischief.

White told ESPN that McGregor, who showed up to the media event unexpectedly, was retaliating for an incident earlier in the week between lightweight Khabib Nurmagomedov and McGregor's teammate Artem Lobov.

White told ESPN that he had a text session with McGregor on Thursday after the incident. He said McGregor was "apologetic about the people he wasn't trying to hurt. But he felt the Khabib thing had to be done."
This is an incredibly ridiculous situation. Why not just confront Nurmagomedov separately? That would at least be understandable. A bunch of other people got hurt for no particular reason.
Here's McGregor in handcuffs after his arrest.
If McGregor's goal was to come off as a tough man defending his friend, he failed miserably. This is the type of behavior that you would expect to see from a nigger. He lost millions of dollars in potential fight purses and will probably end up in jail for awhile.
This is just another sad story documenting how our society and culture is going to complete and total shit.