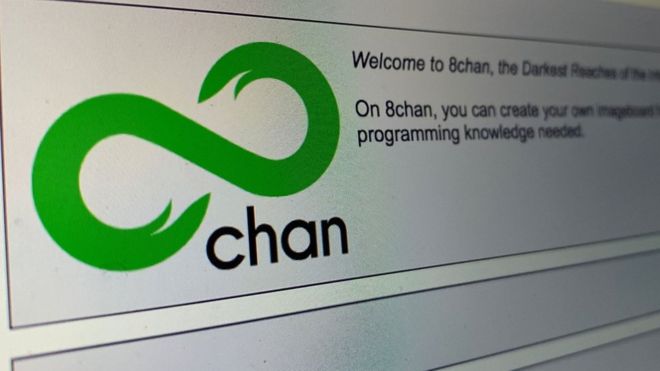 Cloudflare decided to ban 8chan off of their services which has effectively knocked the site off the Internet.
The online message board 8chan was effectively knocked offline Monday after two companies cut off vital technical services following the mass shooting in El Paso, Texas , whose perpetrator was linked to the site. 8chan is known for trafficking in anonymous hate speech and incitement of hate crimes.

A racist "manifesto" posted to the site is believed to have been written by the suspect in a Saturday's killing of 22 people in El Paso, Texas. If it was, it would be the third known instance of a shooter posting to the site before going on a rampage, following mass shootings at two New Zealand mosques in the spring, and another at a California synagogue.

Late Sunday, the security company Cloudflare announced it was cutting off the message board, which has a history of use by violent extremists, for being "a cesspool of hate."
The CEO of Cloudflare Matthew Prince, posted the following statement on Twitter regarding their decision to terminate service for 8chan.
We just sent notice we are terminating service for 8chan. There comes a time when enough is enough. But this isn't the end. We need to have a broader conversation about addressing the root causes of hate online. https://t.co/ZsctDpswM5

— Matthew Prince 🌥 (@eastdakota) August 5, 2019
Prince claims he's for free speech but has thus far banned the Daily Stormer over a fat joke and 8chan over a manifesto that was posted on their message board. It's ridiculous for Prince to ban 8chan because one of their users decided to post a manifesto on their site.
We need more free speech, not less free speech. Banning sites and people off of services for engaging in unpopular speech is just going to exacerbate the problem and encourage more violence.
All this censorship is getting extremely tiring. We need government regulations to guarantee people's right to free speech.
And as I've said before, I have no idea how much longer I'll be able to maintain my own presence on the Internet. 8chan despite its problems and flaws, was one of the few places left on the Internet that allowed free speech. And now its future is uncertain.