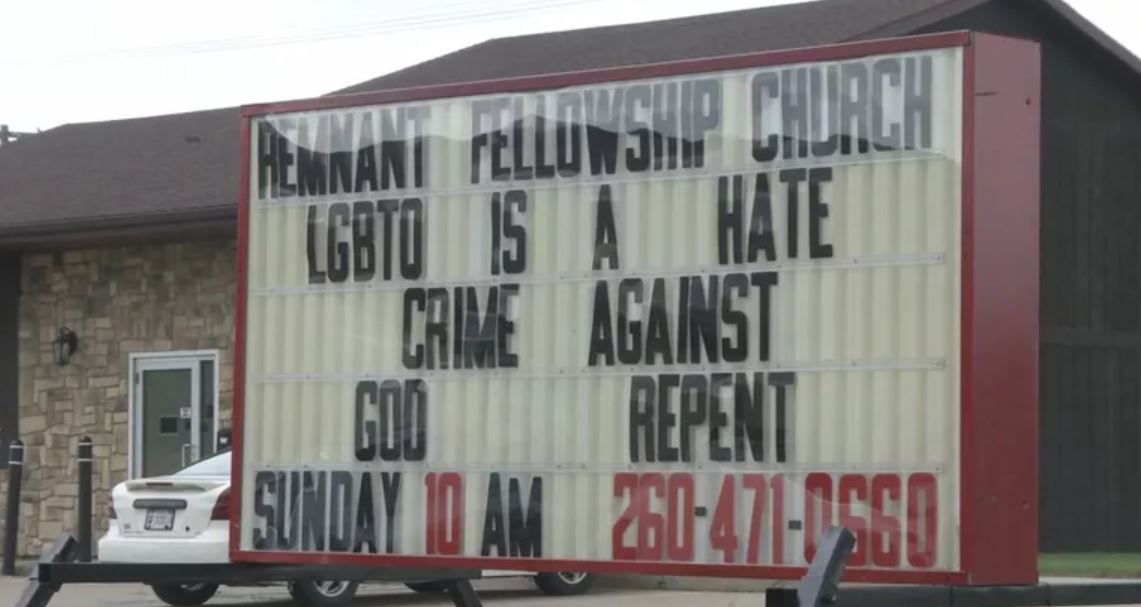 We've reached a point where churches are now being shut down for opposing LGBTQP faggot rights shit.
An Auburn church with a controversial message on a sign has been forced out of their building.

ABC21 reached a church member by phone Saturday who confirmed the news.

On Wednesday, June 27, Remnant Fellowship Church in Auburn posted a sign reading, "LGBTQ is a hate crime against God. Repent."

When asked whether or not the church has plans to relocate, the church member had no comment.

ABC21 previously spoke with a pastor of Remnant Fellowship, who said at the time their message is an attempt to "…reach young people and steer them away from a lifestyle they believe is harmful to them."

The church maintains it is not intolerant of others beliefs, but that it's finding those on the other side of this issue are intolerant of the beliefs of Remnant Fellowship Church.
So this church got kicked out of their building because they expressed a dislike of faggots. This is because a mob of homosexuals raised a fuss about their anti-faggot views hurting their feelings. This is a clear cut case of discrimination. Unfortunately, in America it is perfectly proper to discriminate against Christians. You are only banned from discriminating against specific minorities that have been designated by Jew lawyers.
The only solution to this problem is to be as intolerant of this intolerant faggot mob as possible. Seriously, fuck these degenerate anal sex enthusiasts. Any man who desires to stick his penis in another man's asshole has no place in mainstream American society. And they certainly shouldn't be allowed to force a church out of their building because they don't like the sick behavior of homosexuals.
I personally advocate rounding up and placing all homosexuals in concentration camps. Or if you'd prefer, you can take the extremist position and punish them by throwing them off of roofs. It did seem to work pretty good for the Islamic State. They certainly did not have a problem with faggots in areas they governed. So the extremist position is certainly something worth considering. My main objection to this method is that it is time consuming to clean up the mess the dead faggots make when they hit the ground.