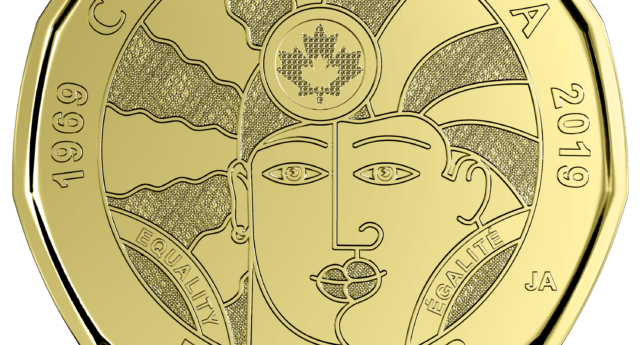 Canada has released a new coin celebrating the 50th anniversary of faggot decriminalization.
Canada has launched a new coin to commemorate the 50th anniversary of the decriminalisation of homosexuality.

The $1 coin features two overlapping faces with the word "equality" written in both English and French, and an engraving of the years 1969 and 2019.

The coin was unveiled at a special event in Toronto on Tuesday where Randy Boissonnault, special advisor to the prime minister on LGBT+ issues, said it was "an important day" for the LGBT+ community in Canada.

"It is an opportunity to reflect on a landmark event in our country's history, and a reminder of the progress still to be made as we work toward inclusion and equality for all LGBT+ Canadians," he said.

Meanwhile, Marie Lemay, president of the Royal Canadian Mint, added: "The Mint plays a significant role in celebrating Canada's culture, history and values through coins.
Ensuring the legal rights of men to fuck each other in the asshole is not something worth celebrating. I also don't believe the government should be minting a coin celebrating this disgusting behavior.
But what do I know? I'm a racist, sexist, fag-hating bigot so my opinion doesn't seem to count in the clown world circus we live in.