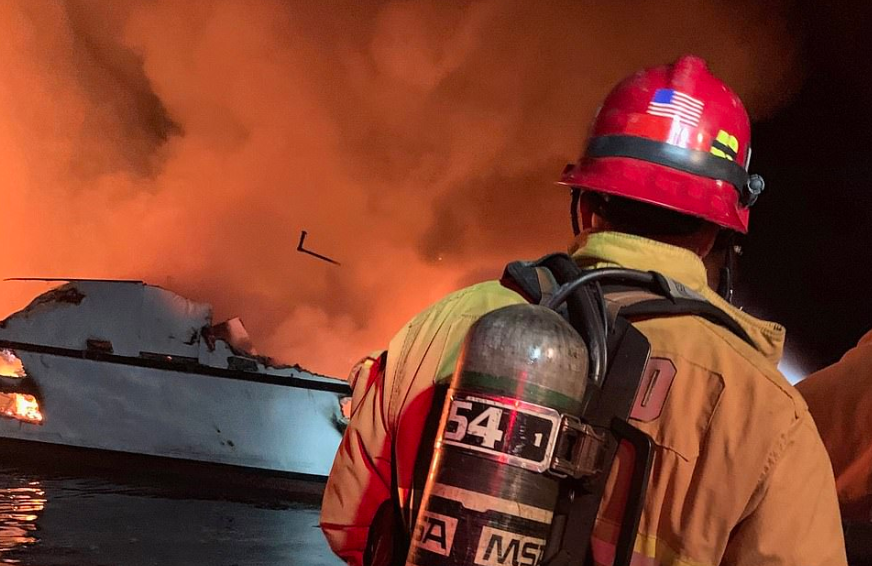 A boat off the coast of California burned up and appears to have killed around 30 people. This is big news apparently.
Dozens of people are feared dead after a 75-foot dive boat burst into flames off the coast of California.

The vessel was anchored 20 yards off of Platts Harbor on the north side of Santa Cruz Island when it caught fire in the middle of the night while passengers were sleeping below deck.

Five people were rescued and 34 are missing, the US Coast Guard said in a press release.

Emergency crews received a call just before 3.30am local time on Monday. Rescue efforts involving multiple agencies and personal watercraft who raced to the scene continued for several hours.

Just after 8am, USCS officials reported that the boat had begun to sink in 64 feet of water as crews worked to extinguish the flames. The bow of the boat is still above water.

Casualties and walking wounded were being transported to Channel Island Harbor, where ambulances were waiting.
I honestly hope all the victims were Jews who work for Hollywood movie studios. Simply because these Jews are evil for the absolute filth and garbage they push in their shitty films. These people deserve to be burned alive and spend the rest of eternity in hell.
But I'll be just as happy if the victims were a combination of non-Whites and homosexuals as these people offer no value to our society.
Oh well. California is a shitty place any way. A bunch of people from California getting burned alive on a boat is not of much concern to me.