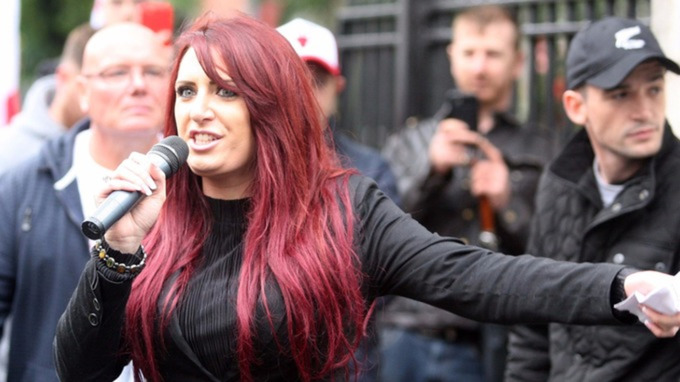 The United Kingdom is a joke of a country. The Brexit debacle has been proof that democracy as it is sold does not actually exist. And then you have this story about Jayda Fransen one of the female leaders of Britain First who was just convicted of violating "hate speech" laws. Her crime? She said mean words about Moslems.
BBC:
A former deputy leader of far-right group Britain First has been convicted of stirring up hatred during a speech about Islam in Belfast.

Jayda Fransen, 33, was found guilty over a speech at a rally in August 2017.

She was also convicted for separate comments at a peace wall in the city.

Britain First leader Paul Golding, 37, and two other Englishmen, John Banks and Paul Rimmer, were acquitted on similar charges.

The judge, when convicting Fransen, of Moat Avenue in Donaghadee, County Down, described her words as "a general, vehement attack against a religious group".

She was told to return to Belfast Magistrates' Court for sentencing in May.

All four defendants were on trial over speeches given during the 'Northern Ireland Against Terrorism' event two years ago.

They were accused of using threatening, abusive or insulting words intended to stir up hatred or arouse fear.

During the trial, defence lawyers argued each of the accused were entitled to freedom of expression no matter how offensive their speeches may be.

The court heard that Fransen told those gathered at the rally that there was no moderate version of Islam and that: "These people are baying for our blood."

She added: "Islam says every single one of you wonderful people here today deserves to be killed."
When you look at what Moslems have been doing in Europe, her statements are not inaccurate. They have been committing random acts of terror in the UK and on the mainland continent. They are also raping girls and doing other horrible shit.
She's basically a target because Donald Trump at one point re-tweeted something she posted. She was subsequently banned from using Twitter because of it.
The UK's political system is a joke and we don't see Trump calling any of this out. In fact, he's not doing much to help anybody who supported him and got him elected. But he sure has plenty of time to do all sorts of things for Jews and Israel.