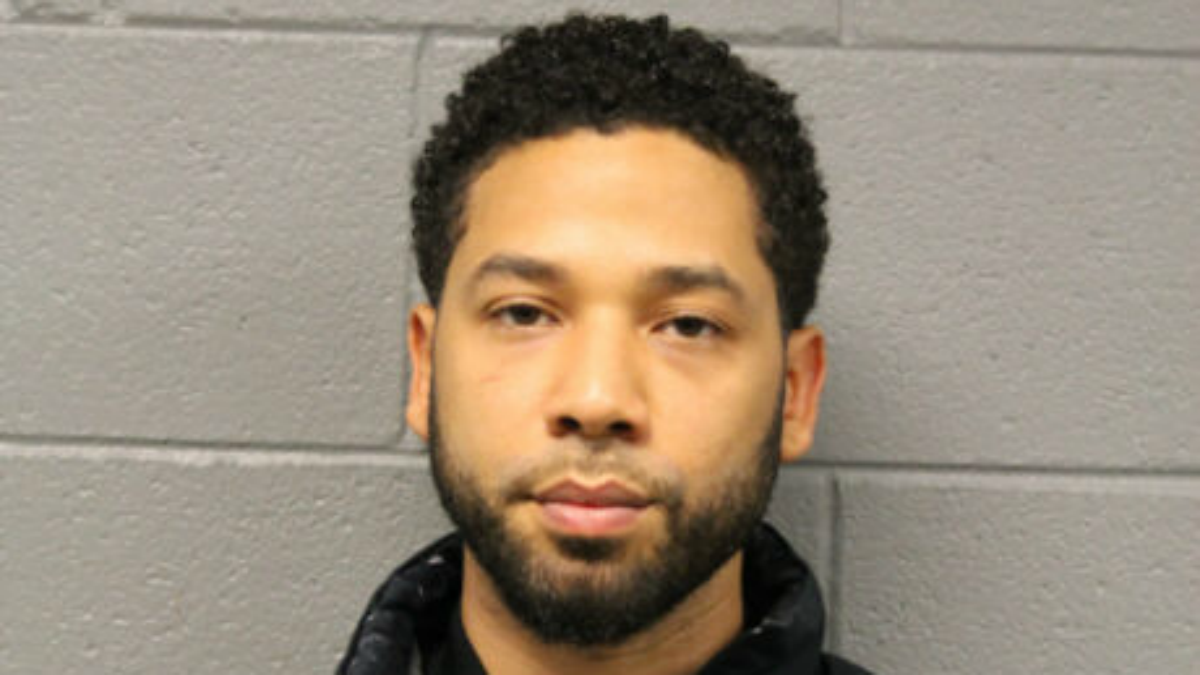 It looks like the black kike homo Jussie Smollett is going to be held accountable for faking a racial attack against himself. As most of you are already aware, he claimed a couple of White Donald Trump supporters wearing MAGA hats attacked him at 2 AM in arctic weather conditions. But what really happened is that he paid a couple of Nigerians to do a hoax attack against him that he falsely blamed on White people.
He turned himself into police early this morning. The Chicago Police Department held a lengthy press conference about the matter. They investigated the situation quite extensively and denounced Smollett for diverting valuable police resources away from legitimate investigations.
"Empire" star Jussie Smollett's bail was set at $100,000 Thursday, hours after the actor turned himself in to police on a felony charge of disorderly conduct in filing a false police report.

Police said in a press conference hours later that Smollett sent a "false letter that relied on racial, homophobic and political language" to himself and staged a hate crime attack in Chicago because he was "dissatisfied with his salary."

"This announcement today recognizes that 'Empire' actor Jussie Smolett took advantage of the pain and anger of racism to promote his career. I'm left hanging my head and asking why," Chicago Police Supt. Eddie Johnson said.

Chicago police spokesman Anthony Guglielmi confirmed to NBC Chicago that Smollett surrendered to police at around 5 a.m. at CPD's Central Booking station at West 18th Street and South State Street.
In addition to hoaxing the MAGA attack against himself, he previously sent himself white powder via the postal service. He only manufactured the MAGA attack after the white powder hoax failed to generate the attention he had hoped.
Basically it looks like he did all this because he was not happy with the amount of money he was making on the Empire show and did all this thinking it would help him advance his career.
Obviously, none of this has advanced his career. He's in some deep shit. The MAGA hoax attack was one thing, but he could end up in even deeper trouble over the mailing of white powder to himself. This is in violation of federal laws and he could potentially be charged with doing some form of terrorism even if it was a hoax against himself.
President Trump chimed in on the situation and basically called out Smollett for being racist against White people.
.@JussieSmollett – what about MAGA and the tens of millions of people you insulted with your racist and dangerous comments!? #MAGA

— Donald J. Trump (@realDonaldTrump) February 21, 2019
What's notable about this entire thing is that immediately when this became news, the Jewish media and Jewish groups like the Southern Poverty Law Center and the Anti-Defamation League treated the story as if it was 100 percent true. This despite the fact that the entire story sounded ridiculous and many people including blacks thought it was a hoax from the start.
We've been proven 100 percent right in our belief that this was a hoax. We said so from the beginning. The Jewish media has been proven 100 percent wrong in their support of this hoax.
This entire saga is going to make it extremely difficult if not impossible for the Jewish media to promote new fake hate crimes allegedly committed by White people. All we have to do now is bring up the Smollett MAGA attack hoax situation to express our skepticism.
Overall, I am very pleased with how this is developing.