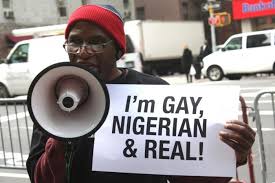 The Jewish handlers of Joe Biden are threatening Nigeria with sanctions because they won't let men who fuck each other in the ass marry one another.
Biden threatens financial, visa sanctions against Nigeria, others over anti-gay laws https://t.co/GPw9zNWXpU

— Peoples Gazette (@GazetteNGR) February 8, 2021
This global anal agenda is very important for the Jews as they are trying to get the entire third world on the same page with the larger global government system that is forming. It is obviously a bit difficult to have a global government if some places have laws outside the norms that they are trying to establish.
Unfortunately, the global anal agenda was actually advanced under Donald Trump's presidency. It was a small part of his foreign policy thanks to his Jewish son-in-law and daughter. So what the Biden regime is doing is just a continuation of what has already been happening. You should expect to see other countries face threats if they do not pass or embrace pro-homo laws.