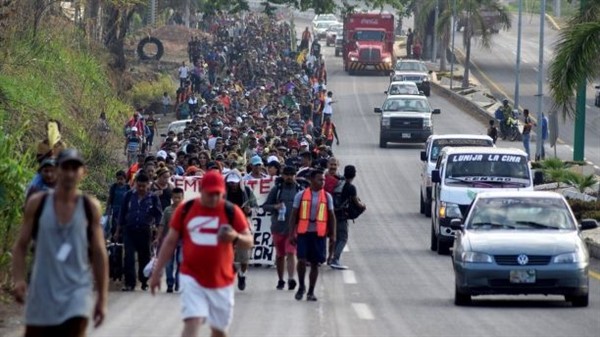 So this army of beaner monkeys is heading closer to the United States. As expected, the Mexican government is doing nothing to stop this caravan of cultural vibrants.
A caravan of some 1,500 Latin American migrants, welcomed into Mexico on their 1,900-mile trek to the United States where they plan to demand asylum, was welcomed by a third Mexican town 400 miles into their journey.

On Facebook, organizer Pueblo Sin Fronteras wrote, "Thanks to the community Matias Romero for his solidarity with the caravan viacrusis migrants in the fight."
The President has continued to talk about the situation. He issued a barrage of tweets about this.
Mexico has the absolute power not to let these large "Caravans" of people enter their country. They must stop them at their Northern Border, which they can do because their border laws work, not allow them to pass through into our country, which has no effective border laws…..

— Donald J. Trump (@realDonaldTrump) April 2, 2018
…Congress must immediately pass Border Legislation, use Nuclear Option if necessary, to stop the massive inflow of Drugs and People. Border Patrol Agents (and ICE) are GREAT, but the weak Dem laws don't allow them to do their job. Act now Congress, our country is being stolen!

— Donald J. Trump (@realDonaldTrump) April 2, 2018
DACA is dead because the Democrats didn't care or act, and now everyone wants to get onto the DACA bandwagon… No longer works. Must build Wall and secure our borders with proper Border legislation. Democrats want No Borders, hence drugs and crime!

— Donald J. Trump (@realDonaldTrump) April 2, 2018
Mexico is making a fortune on NAFTA…They have very strong border laws – ours are pathetic. With all of the money they make from the U.S., hopefully they will stop people from coming through their country and into ours, at least until Congress changes our immigration laws!

— Donald J. Trump (@realDonaldTrump) April 2, 2018
As ridiculous as it sounds, the laws of our country do not easily allow us to send those crossing our Southern Border back where they came from. A whole big wasted procedure must take place. Mexico & Canada have tough immigration laws, whereas ours are an Obama joke. ACT CONGRESS

— Donald J. Trump (@realDonaldTrump) April 3, 2018
Honduras, Mexico and many other countries that the U.S. is very generous to, sends many of their people to our country through our WEAK IMMIGRATION POLICIES. Caravans are heading here. Must pass tough laws and build the WALL. Democrats allow open borders, drugs and crime!

— Donald J. Trump (@realDonaldTrump) April 3, 2018
Clearly this is a big deal. It is a test to see if they can flood the United States with thousands upon thousands of brown hordes through asylum requests. It is an utterly insane situation. This first attempt has to be stopped. If it means sending in the military or using a drone strike, so be it. If drones can used to kill brown people for the benefit of Israel, I don't see why they can't be used to defend America from a subversive foreign population trying to invade the country.
Trump is saying all the right things in trying to get a solution through Congress or the Mexican government but I am not optimistic that any of those approaches will work. Congress seems content to let a bunch of bean monkeys invade the country because it's sad or something. And Mexico? They want America flooded with as many brown people as possible. That's been their policy for decades now.
Extreme measures may have to be taken to stop this and hopefully Trump is ready to issue the order.
There's also the possibility that we could see militia groups try to confront this invading bean monkey army if the government does nothing substantive to stop them. This situation has gotten lots of attention, so at this point anything is possible.