This is some outstanding journalism. The anti-fascist professor Dwayne Dixon who bragged on Facebook about chasing James Fields car with a rifle in Charlottesville was confronted on video. The footage shows him going nuts as soon as he sees that he is being filmed. He immediately asks people to call campus police while whining about private property. Interesting since I didn't think Communists believed in private property.
They ask him if he chased James Fields with a rifle before the car crash and if he feels as if he was responsible for Heather Heyer's death. His reaction is priceless.
We need to do what we can to make this video go viral. Fields only crashed into that crowd with his car because he legitimately feared for his life. This fact is becoming increasingly clear.
Here's a copy of Dixon's Facebook post.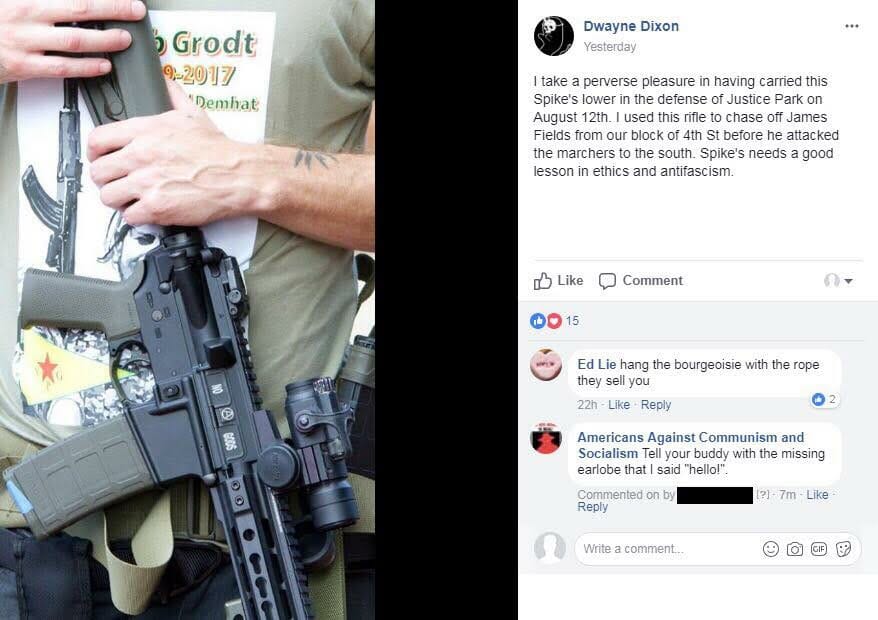 We also need to be asking why the Fields trial hasn't been held yet. It's been six months now. It would seem safe to assume that they don't have enough evidence to charge him with the crimes they have filed. The prosecutors over reached by trying to charge him with higher degree murder charges.
Hopefully someone like Tucker Carlson picks this up and exposes this Dixon clown to a larger audience.