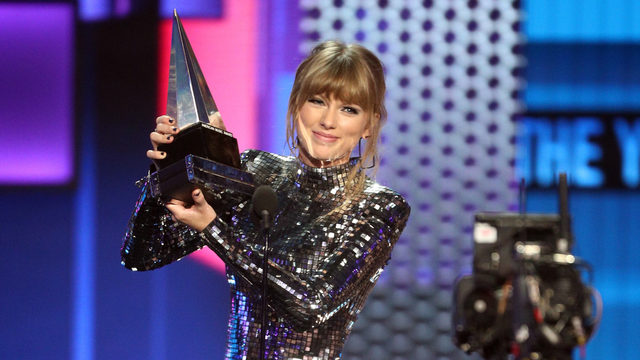 These stupid awards shows are getting increasingly tiresome. It's nothing but a bunch of Jewish bullshit designed to promote shitty Jew music, Jew movies and Jew shows. All these awards shows which used to net fairly high ratings are plunging in popularity. The American Music Awards is the latest example of this.
The American Music Awards suffered a ratings decline Tuesday (Oct. 9), falling significantly versus the 2017 show.

ABC's broadcast of the AMAs tied for the lead among adults 18-49 in primetime with a 1.8 rating, but that was down 25 percent from the 2.4 for the 2017 show (the 2018 awards were staged a month earlier than in the past 15 years). The AMAs also fell about 28 percent in viewers to 6.55 million, versus 9.15 million in 2017.
That's a pretty significant drop in viewers.
And on top of that, Taylor Swift used her "artist of the year" speech to encourage people to vote. In other words, she wants people to vote for Democrats.
She previously put out a social media post telling people how evil the Republican candidate for the Tennessee Senate seat is.
Fuck all this celebrity shit. It's slowly dying and nobody gives a damn about the retarded political views of childless skanks like Swift.