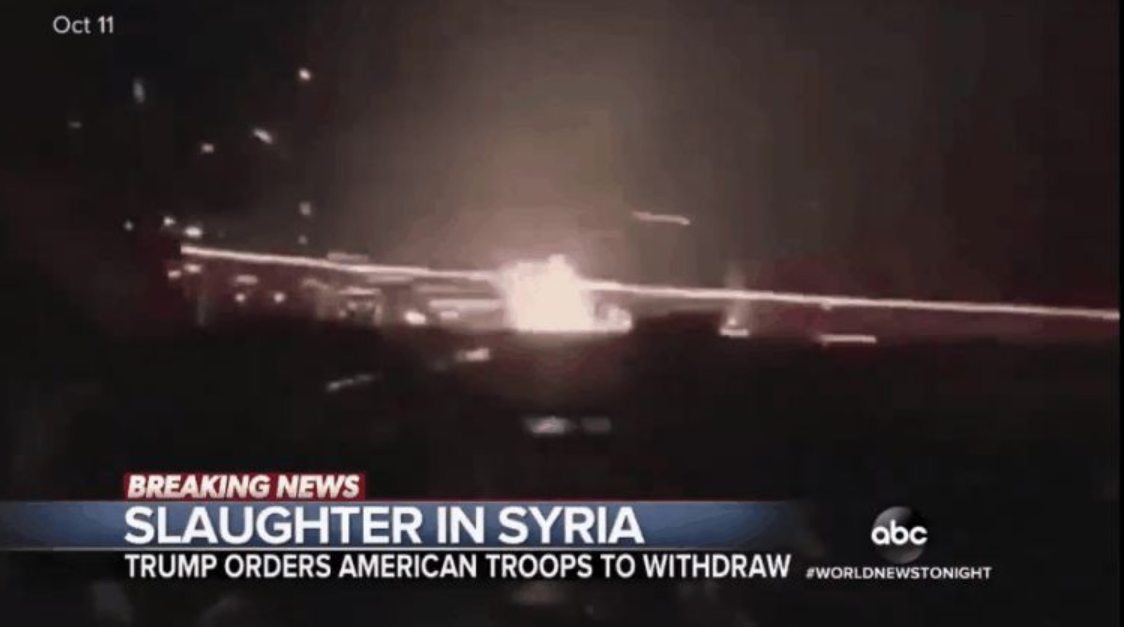 ABC News just got caught using a YouTube video from 2017 in one of their propaganda pieces designed to demonize the Turks for slaughtering infinite numbers of Kurds over the past couple of days.
ABC News aired a video on Sunday that host Tom Llamas said depicted a Turkish attack in northern Syria against Kurdish civilians. Turkey is indeed pushing into Syria and slaughtering Kurds along the way, but the video ABC News played last night is from a military gun demonstration in Kentucky that was published to YouTube in 2017.

"This video, right here, appearing to show Turkey's military bombing Kurd civilians in a Syrian border town," Llamas said on the October 13 broadcast as the video played.

But the explosions in the video are identical to explosions seen in a video titled, "Knob Creek night shoot 2017." Knob Creek Gun Range, in the town of West Point, Kentucky, hosts a biannual event called the "Military Gun Shoot & Military Gun Show" where weapons are fired at night. Members of the public can come and see the show for a fee in April and October.
Yeah so they used a video shot at a Kentucky gun range filmed back in 2017 showing a night fire exercise as evidence that Turkey was doing all sorts of bad things.
The orange man even chimed in on this latest embarrassment from the Jewish fake news media.
A big scandal at @ABC News. They got caught using really gruesome FAKE footage of the Turks bombing in Syria. A real disgrace. Tomorrow they will ask softball questions to Sleepy Joe Biden's son, Hunter, like why did Ukraine & China pay you millions when you knew nothing? Payoff?

— Donald J. Trump (@realDonaldTrump) October 15, 2019
And these fools who work at these operations wonder why people question their credibility. Maybe they could take a look in the mirror and realize that people don't trust them because they keep reporting lies and stupid conspiracy theories.
But claiming that a 2017 YouTube video from a Kentucky gun range is evidence of genocide happening on the other side of the world, at the very least shows incompetence, if not a deliberate attempt to swindle and misinform the viewer.