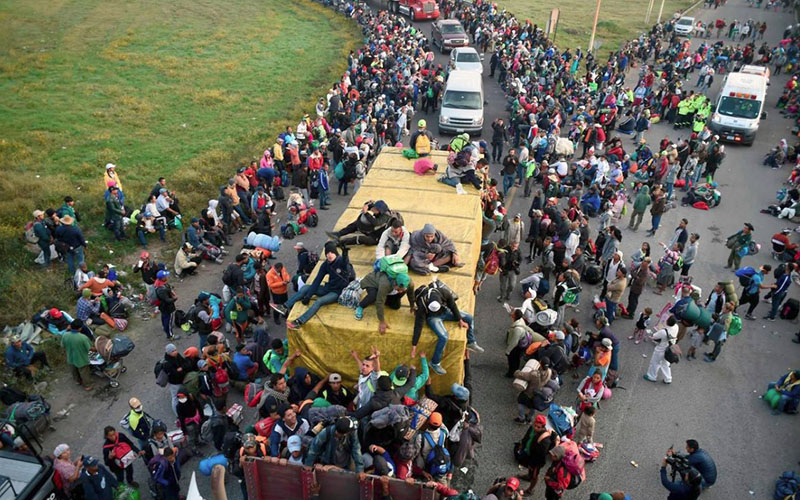 This is a pretty high number of invaders trying to invade the United States. Highest in over a decade and we still have three months left in the year.
Border Patrol agents working along the United States-Mexico border took into custody approximately 851,000 people in the U.S. government's fiscal 2019, marking the highest number of arrests since 2007, according to federal data exclusively obtained by the Washington Examiner.

But the 40,000 people taken into custody in September is less than one-third of the 132,000 arrests made in May at the height of a surge of illegal immigrants.

Roughly 40,000 people were apprehended after crossing into Texas, New Mexico, Arizona, and California during the month of September. That number was added to the previous 11 months to bring fiscal 2019, which ran Oct. 1, 2018, through Sept. 30, to slightly more than 851,000 arrests. Those arrested for illegally crossing into the U.S. from Mexico may have claimed asylum once in custody, but that figure is not released by the government each month.

The 851,000 arrested at the southern border does not include the number of people who approached ports of entry, or border crossings, to claim asylum or pass through but were turned away. U.S. Customs and Border Protection, the Department of Homeland Security agency that oversees these figures, is expected to release this and related data in a few weeks.

As of Aug. 31, another 263,000 people were encountered at ports by the Office of Field Operations, a component of CBP. Border Patrol agents are stationed on the land between ports of entry while field operations officers stay at ports. These people are not arrested but are simply denied entry.
Much of this is from the influx of invaders that occurred earlier this year.
To Donald Trump's credit he has found a way to slow this flood down and his border wall infrastructure is finally getting installed in critical areas. Of course, the situation is hardly ideal and vast improvements are still needed.
The bigger problem is with legal immigration. Our immigration laws are insane but because of Jewish propaganda and Jewish subversion of our political system, the flood continues unabated. We need an end to both illegal and legal immigration until we can figure out what's going on.